Copacabana
click PAUSE button to stop/pause
I remember when Barry's producer Ron Dante called me to work with Barry for the first time. I had of course heard his records and really liked his sound. I went into the meeting with a very positive feeling. I really wanted to connect with Barry. The meeting went real well. Barry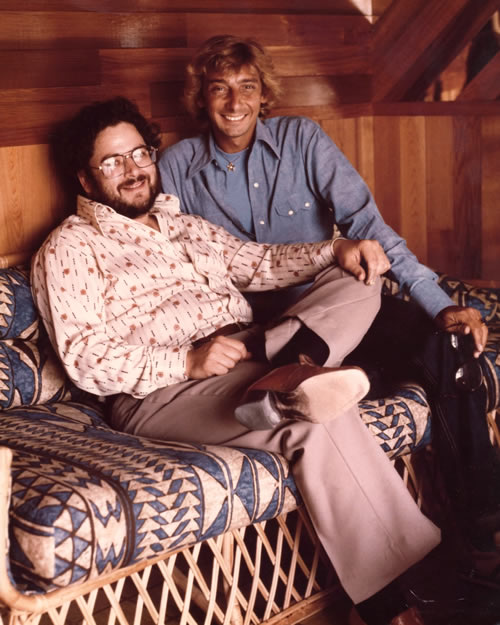 was very precise about what he did and did not want, and yet at the same time he was open to suggestions. Instantly I became aware of his musicality. This was not just some guy who sings. This is a guy who comes from inside the music, as do I. After about ten or fifteen minutes I began to feel that Barry was feeling comfortable with me. I think he sensed that he could trust me. I knew that if I could please him we would have a great relationship.
I was really excited about going into the studio with Barry. I felt very good about what I had written in the arrangements. I remember that the first song on the session was Copacabana. After I ran the arrangement down with the brass and sax sections I remember Barry coming out into the studio from the control room and telling me how happy he was. After we finished recording the horns we recorded the strings the next day. On those first recording sessions we recorded "Copacabana" "Even Now" and "Can't Smile Without You." What can I say. We really hit it off great and had three big hit records the first time we worked together. Throughout the years I worked with Barry on many other projects. "One Voice," "Ships," "Memories," "Old Songs," "When I Wanted You" and"I Know I'll Never Love This Way Again" with Dionne Warwick and many many others. I also worked on some of Barry's TV specials and on "Singin' With The Big Bands." "Show Stoppers," "Manilow Sings Sinatra," etc. The photo above was taken at that first session.
Every time I work with Barry he always seems to get me to really dig in emotionally. I think that's because he knows that I share the same passion for music that he does. I have a tremendous amount of respect for his musical integrity. He also has a great sense of humor and that makes us even closer. We still enjoy a good musical and personal relationship today.