What a Wonderful World
click PAUSE button to stop/pause
Where does one start when you write about Louis Armstrong? He was there when Jazz was born.
In 1967, I had just moved to Los Angeles when Bob Thiele a well respected record producer asked if I would like to record   a song with Louis Armstrong in Las Vegas. Needless to say I was thrilled. Louis was working in Las Vegas at the Tropicana Hotel.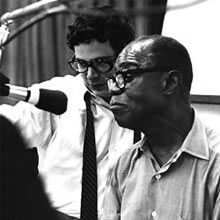 I wrote the arrangement and the following week I flew to Las Vegas to meet with Bob Thiele and Louis. After Louis finished his midnight show, we all went to United Studios.
It was 2 a.m. when we started to record. I will never forget that in the middle of recording a freight train came into town blowing its whistle. We had to stop the session and wait about twenty minutes.
About an hour later the train left town and blew its whistle again. We had to stop the session once more. I remember Louis and I laughing out loud till it hurt. We actually hung on to each other to keep from falling over from laughter. It was really one of the funniest moments in my life. When you stop and think about how fortunate and lucky you are to be given the opportunity to work with an icon like Louis Armstrong, and then twice in the same recording session a freight train blows it's whistle and causes you to stop recording. It's the epitome of Murphy's law.
We finally got the take we all liked at around 6 AM. By then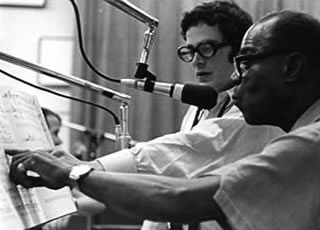 we were all starving so we went for breakfast. Can you believe it? There I am sitting and having breakfast with Louis Armstrong. We talked about music, life and of course we told jokes.
At the end of our breakfast, Louis grabbed me by my shoulders and pulled me over and kissed me on the head and said "Artie its been a real pleasure working with you and a gas laughing with you. Let's do more."
I will never ever forget the few hours I got to spend with Louis Armstrong. Every time I hear "What A Wonderful World" on the radio or TV it truly brings a warm feeling all over me as I reflect back to that special recording session and breakfast. These photos were taken at the recording session in Las Vegas … sometime between freight trains.